---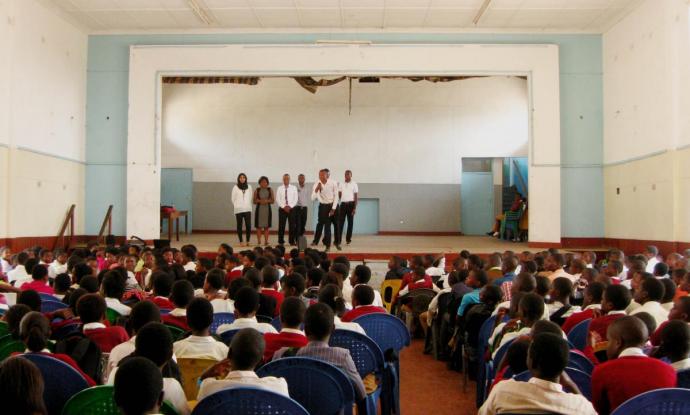 ONGOING WORK
The undergraduate and postgraduate courses in Mental Health are run at the Kumuzu University of Health Sciences main campus in Blantyre. Established in 1991, the University is the country's only medical school and is part of the University of Malawi. The intake to the medical school is now around 100 per year, all courses are taught in English and students receive an internationally recognised medical qualification.
The Department of Mental Health is headed by Dr Kazione Kulisewa, a Malawian consultant psychiatrist who was himself supported through his training by SMMHEP.  The department's teaching is supported by SMMHEP's volunteer lecturers. The department aims to increase its size and capacity, expanding the number of lecturers and its research output, while building up a critical mass of postgraduate mental health clinicians and researchers.
All organisations and persons featured in the film gave full permission for their images to be published.
---
Undergraduate Psychiatry Teaching
The general psychiatry course is taught to 4th year students over a five-week period with an exam at the end of week six. There are four rotations every academic year.
The course includes lectures at the University, together with clinical teaching at  Zomba Mental Hospital and in the outpatient clinic at Queen Elizabeth Central Hospital in Blantyre. Teaching methods include problem-based learning, tutorials and case-based teaching in acute outpatient and inpatient settings. A Malawian clinical psychologist and a visiting psychology lecturer deliver teaching on psychotherapy, mental wellbeing and the cultural aspects of mental health.
Twice a year, a Learning Disabilities and Child and Adolescent Psychiatry course is taught to 4th year students over a one-week period. It includes a lecture series, small group work, problem-based learning, discussions, a film night and site visits to children's charities.
Out Patient Clinics, Queen Elizabeth Hospital, Blantyre
Three mornings a week, the Head of Department and SMMHEP volunteers run an outpatient walk-in clinic with two psychiatric nurses. The remainder of the week, the clinic is staffed by psychiatric nurses. Each week, the clinic treats between 100 and 150 patients and when necessary, admits patients to Zomba Mental Hospital. The Head of Department and SMMHEP volunteers also organize training sessions for the nurses and security personnel and conduct clinical audits.
---
Postgraduate Psychiatry Teaching